Microsoft Word
MS Word objective type mcq (multiple choice) Online Test : Microsoft Word is a word processing application designed by Microsoft. Microsoft Word, i.e. MS Word, is a part of the popular MS Office Package. Here you will find a good collection of Multiple Choice Questions to test your knowledge on Microsoft Word with answer. Most of the questions are applicable to all versions of MS Word (including Word 97-2003, 2007, 2010, XP, etc.). Sometimes these types of questions are asked as part of the general knowledge section of basic computer awareness and computer operation section.
MS Word MCQ Question with Answer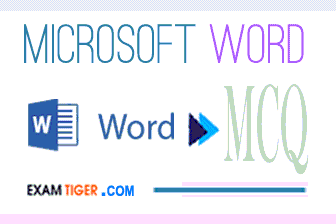 Here you will find a list of common important questions on microsoft word in MCQ quiz style with answer for competitive exams and interviews. These frequently asked sample questions on MS Word are given with correct choice of answer that you can check instantly. Presently we have added total 4 sets of questions on microsoft word for you to practice. We will keep adding more questions and provide this question bank in PDF format, so that you can download them instantly in E-book style.
Following section consists of some important multiple choice questions (mcq) on microsoft word with answers.
---
TEST INSTRUCTION: CLICK OPTION (A, B, C, D) TO SEE ANSWER.
---
---
Q.

1.

In which view Headers and Footers are visible


Show Answer
Q.

2.

The process of removing unwanted part of an image is called


Show Answer
Q.

3.

To apply center alignment to a paragraph we can press


Show Answer
Q.

4.

The space left between the margin and the start of a paragraph is called


Show Answer
Q.

5.

Text-styling feature of MS word is


Show Answer
---
Quick Facts about MS Word
File Extension
.doc / .docx
Initial Name
Multi-Tool Word
Developed By
Microsoft Corporation
Type
Word Processing Software
Usage
Creating Documents, Letters, Brochure, Resume, etc..
First Released
October 25, 1983 as Word 1.0
Version
Popular versions - 97, 98, 2000, XP, 2003, 2007, 2010, 2013, 2016, 2019, 2021
Advertisement
Search Here
MORE ON COMPUTER
---
LATEST ADDITION
REPORT ERROR
---
If you spot any typographical, grammatical or factual error in our site, then please let us know. Thanks in advance.